30 Jul

Create a Focal Point with Modern Sculpture




Sculptural forms are appearing on the shelves of top brands and design studios, sold alongside items such as lamps and vases. If you once considered sculptures to be unattainable objects reserved for artists and collectors, think again. A new wave of accessible, affordable sculptures makes it easy for design lovers to bring them home. The geometry and fluidity of modern sculpture can create an unexpected focal point and set the stage for a creative space filled with interesting treasures. Read on as we showcase some of our favorite pieces! [modern sculpture below from the master bathroom of Athena Calderone]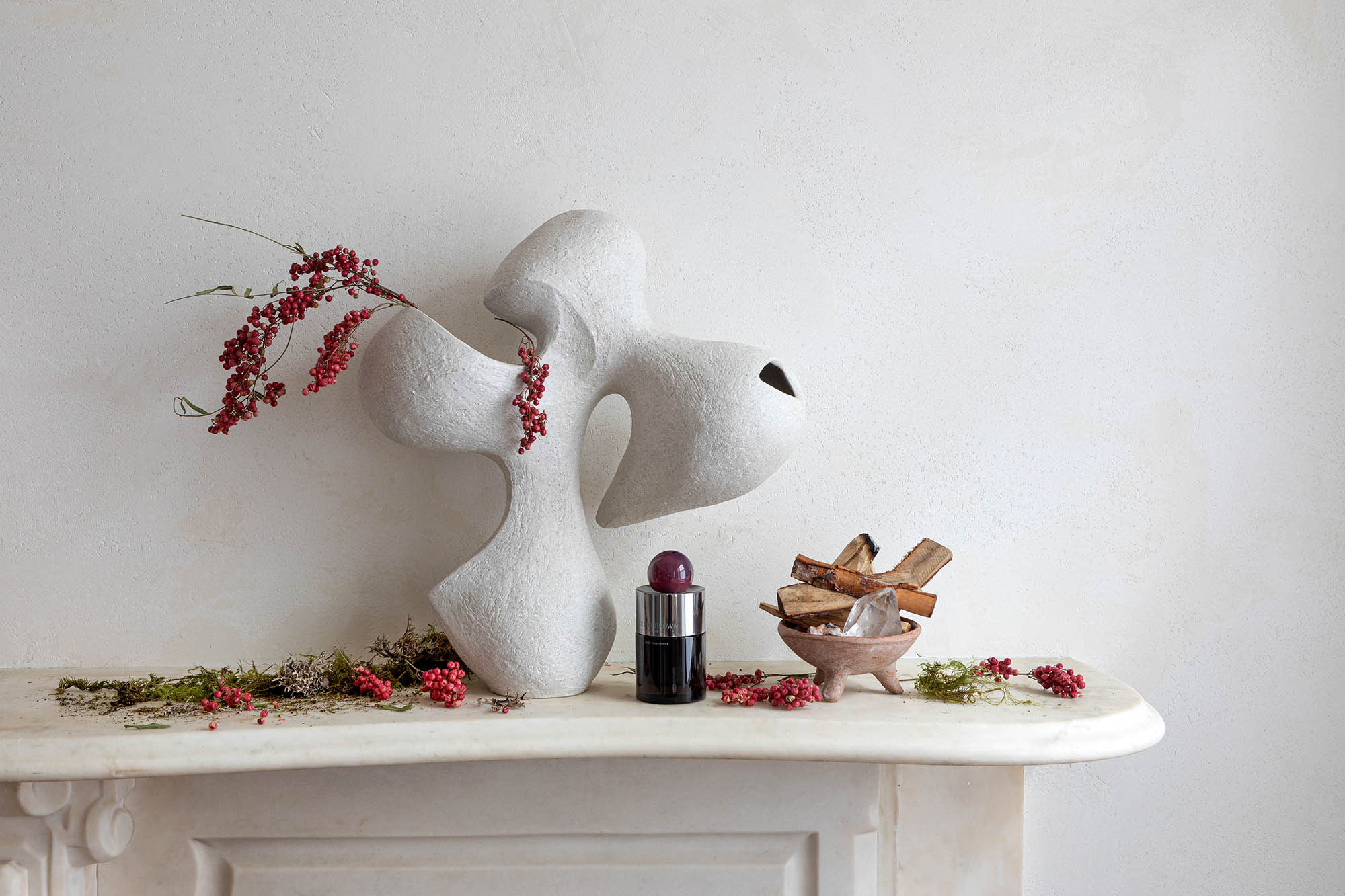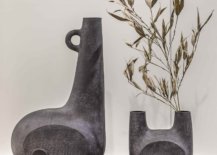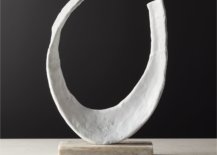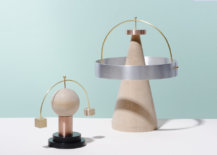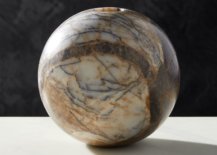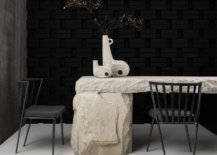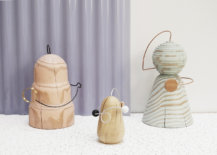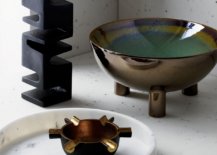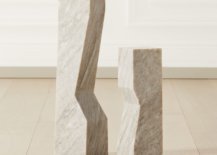 Fluid Forms
Many of the most popular modern sculpture designs involve fluid lines and organic forms. The look is free and inspired, adding a dynamic element to the room at hand. This Fanchon Sculpture from Lulu & Georgia is sculpted from black marble: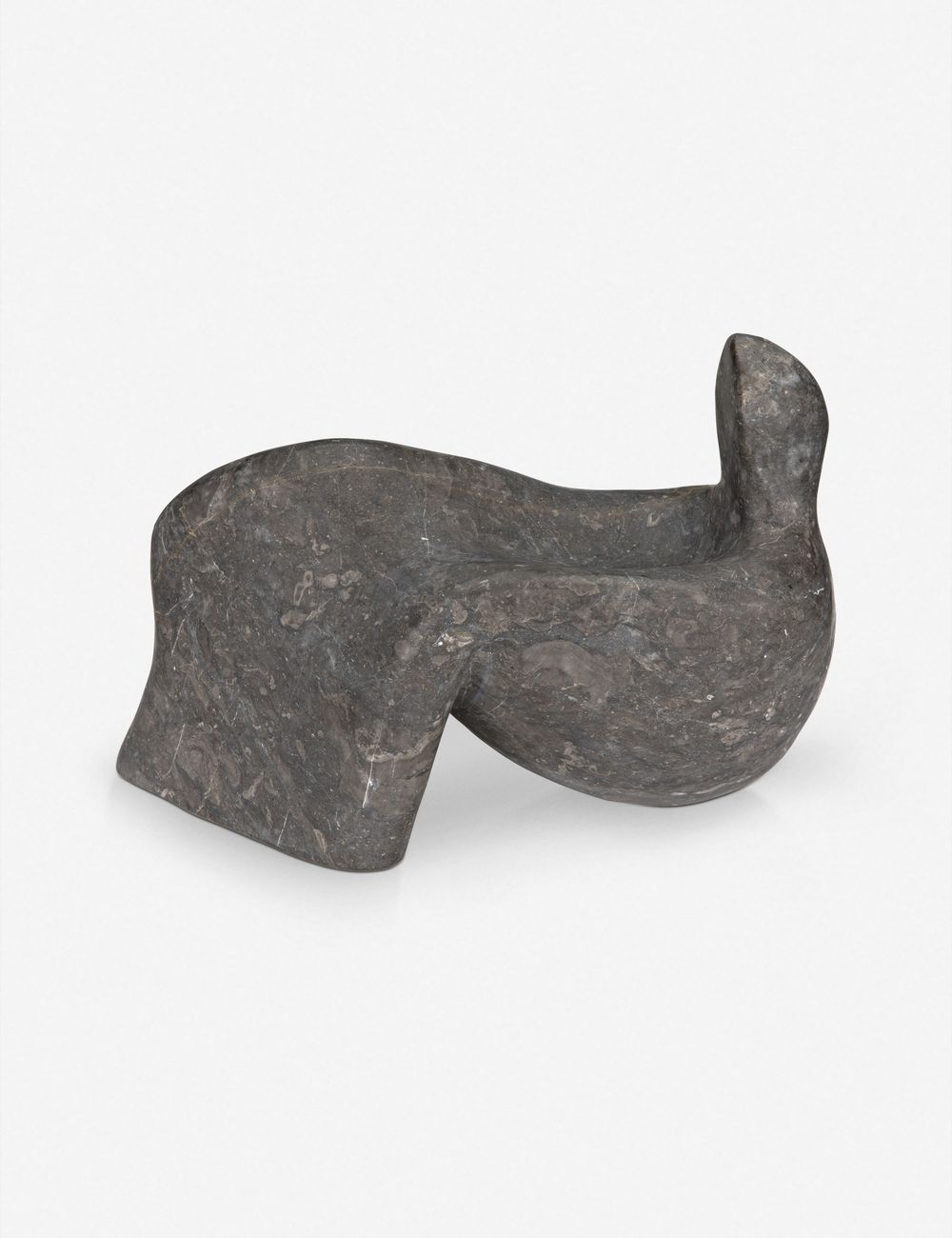 CB2's Mio Cast Aluminum Sculpture is a vision in textured aluminum, with two "arms " reaching for the sky. A brown morchana marble base provides just the right amount of contrast. Mixed materials for the win!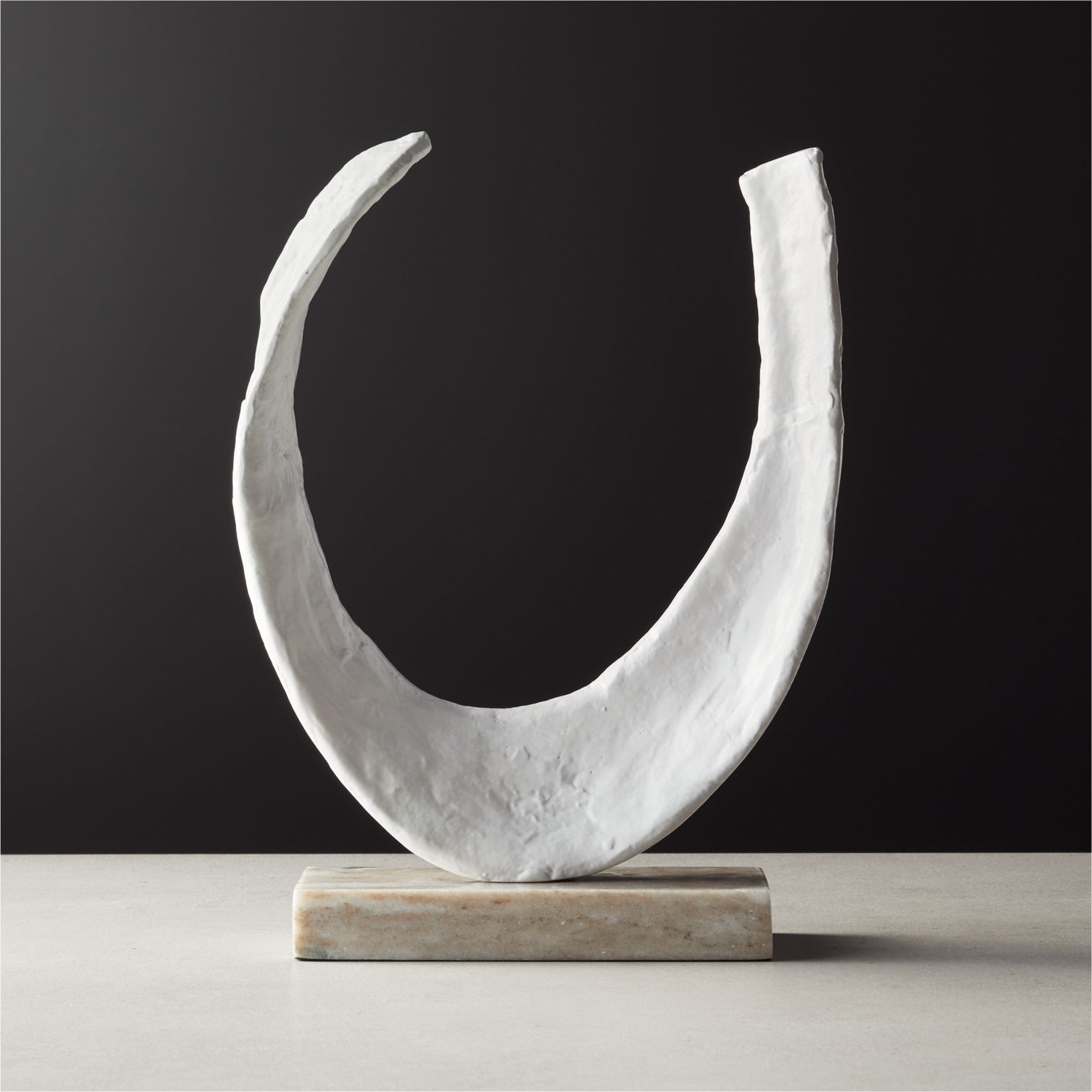 Wondering where to display your sculpture? If you really want to give it a proper stage, consider a pedestal table. Below we see the Infinity Black Knot Sculpture, showcased next to a modern leather sofa. You can give your sculpture the entire spotlight on a surface such as a dining table, or you can incorporate it into a grouping on a surface such as a console table, shelf or bedside table. Go casual, go formal. The choice is yours!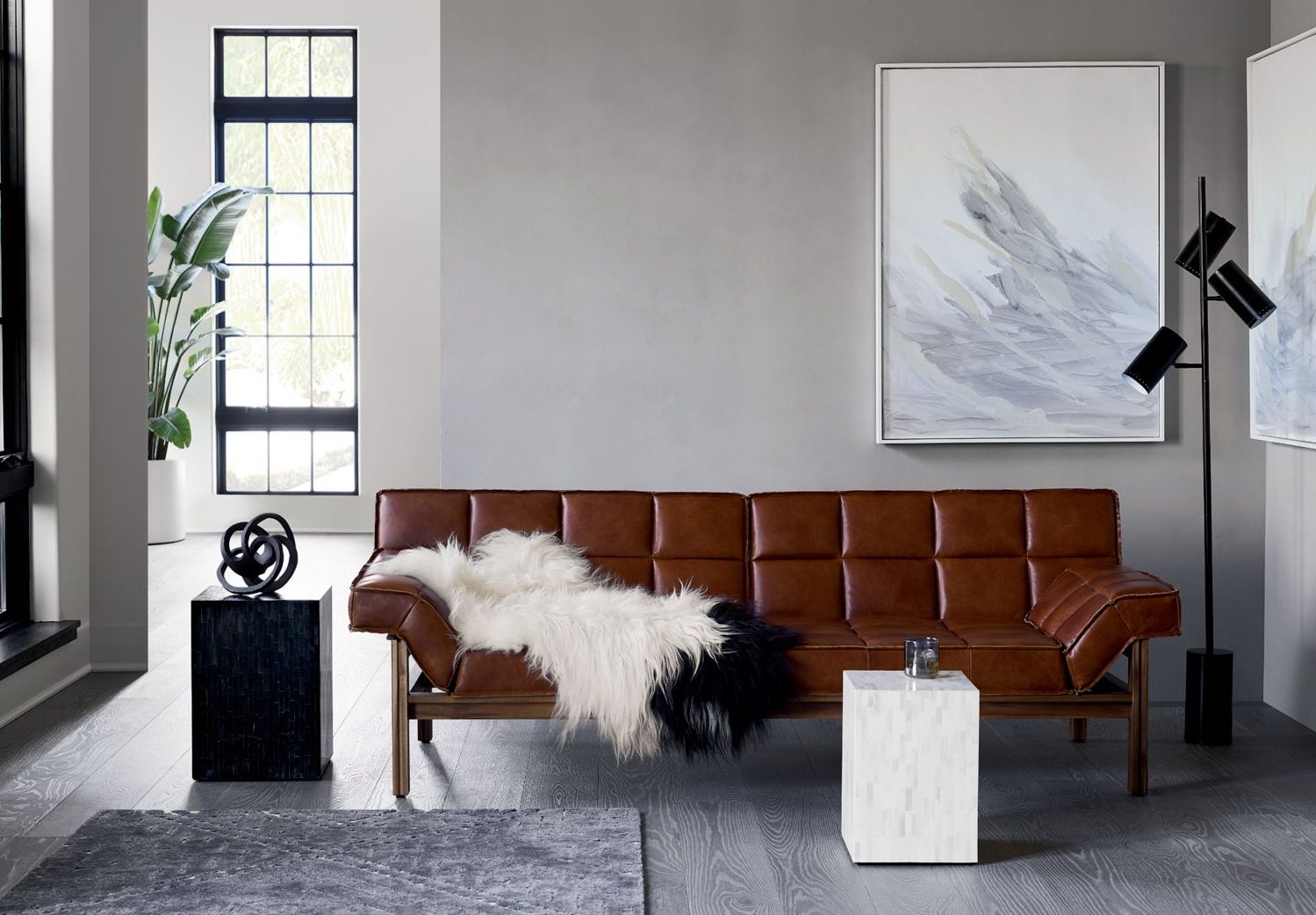 Geo Flair
From fluid forms to sharp angles, we now highlight a couple of modern pieces that bring geometry to the forefront. First up: CB2's Esher Pillar Sculpture. This affordable sculpture is crafted from black aluminum and channels the look of an ancient artifact: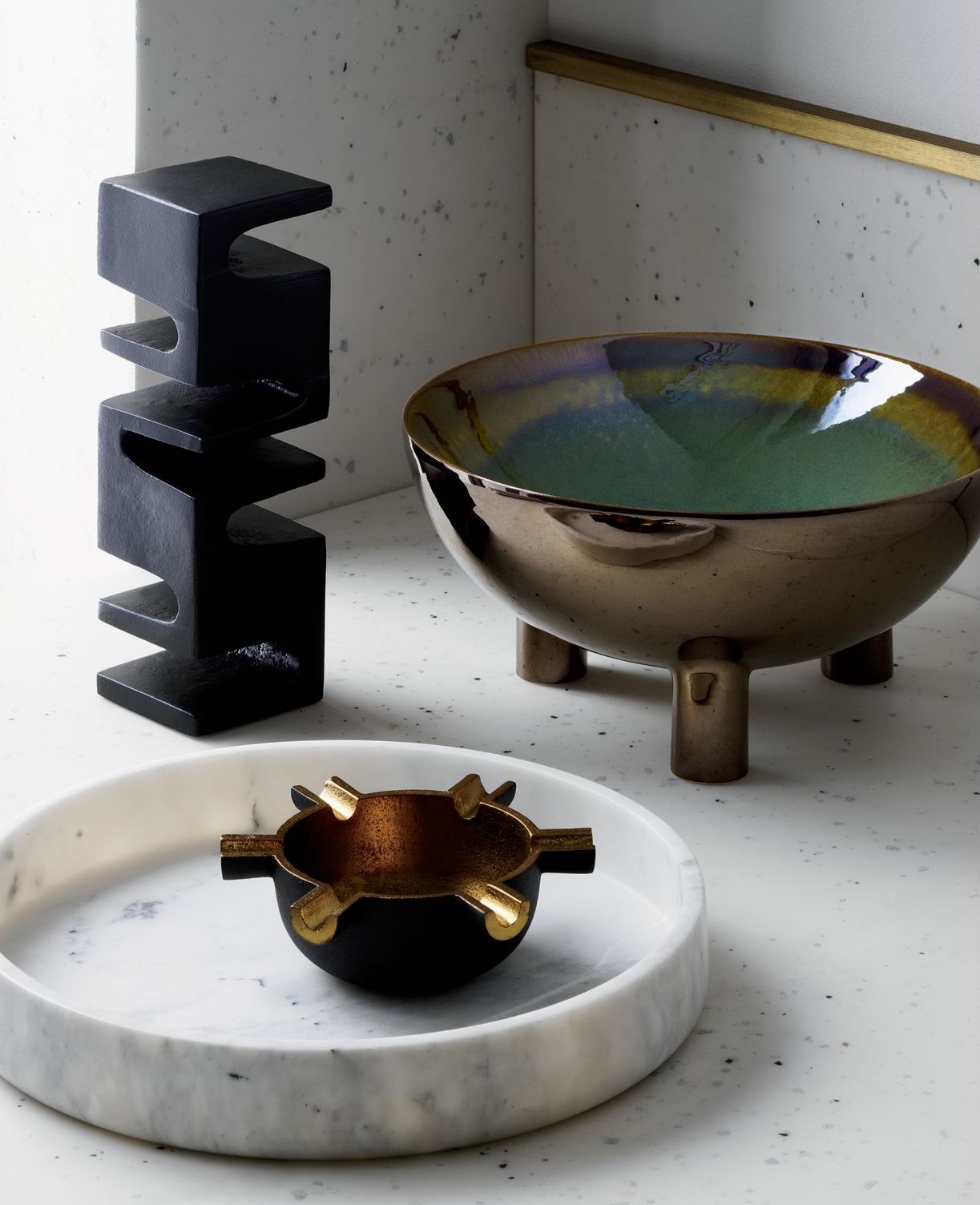 Also from CB2, the Vesta Marble Sculpture Pedestal features natural volakas marble carved into soft but striking angles. Available in two sizes so you can choose the statement in your scale of choice, although we can't deny that these beauties are extra fetching when displayed in a pair: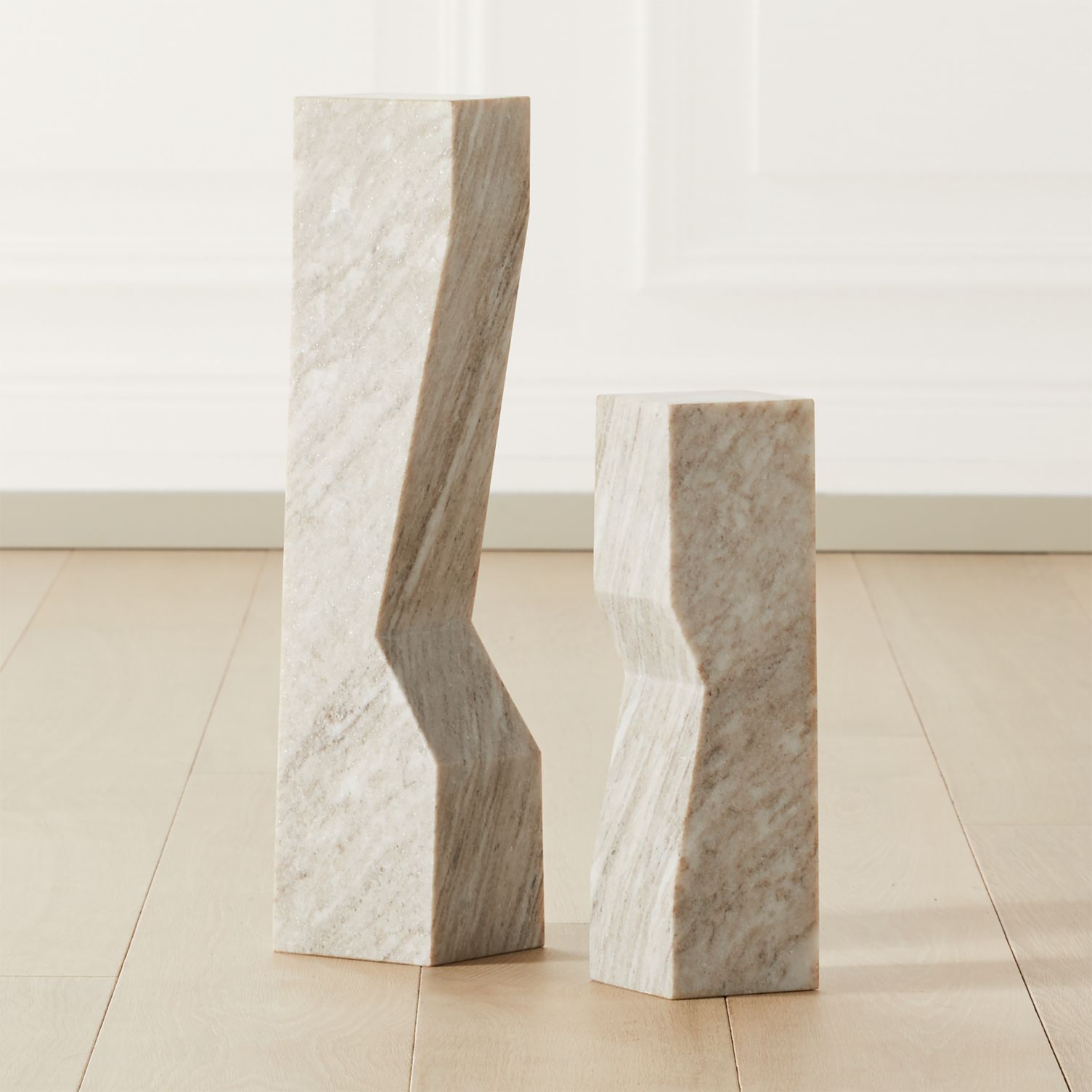 Mixed Materials
It's time to shine the spotlight on a collection of sculptures from Brooklyn-based design studio Ladies & Gentlemen Studio. The pieces featured below create a true "mixed materials" look, thanks to a combination of wood, metal and acrylic. These balance studies "were inspired by chrome executive toys that fascinated us as children". A playful take on balance and form: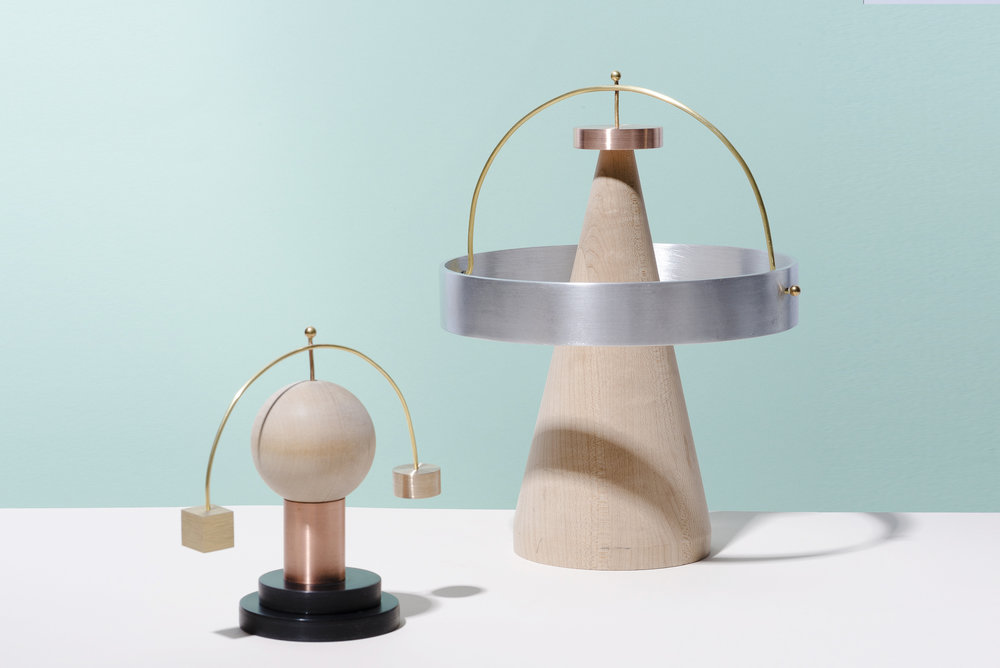 Balance and motion are also on full display in the Spinamajig Sculptures featured in the next image. Stained wood bases by Pat Kim anchor each piece, while wire line weights in materials such as brass and copper provide visual interest: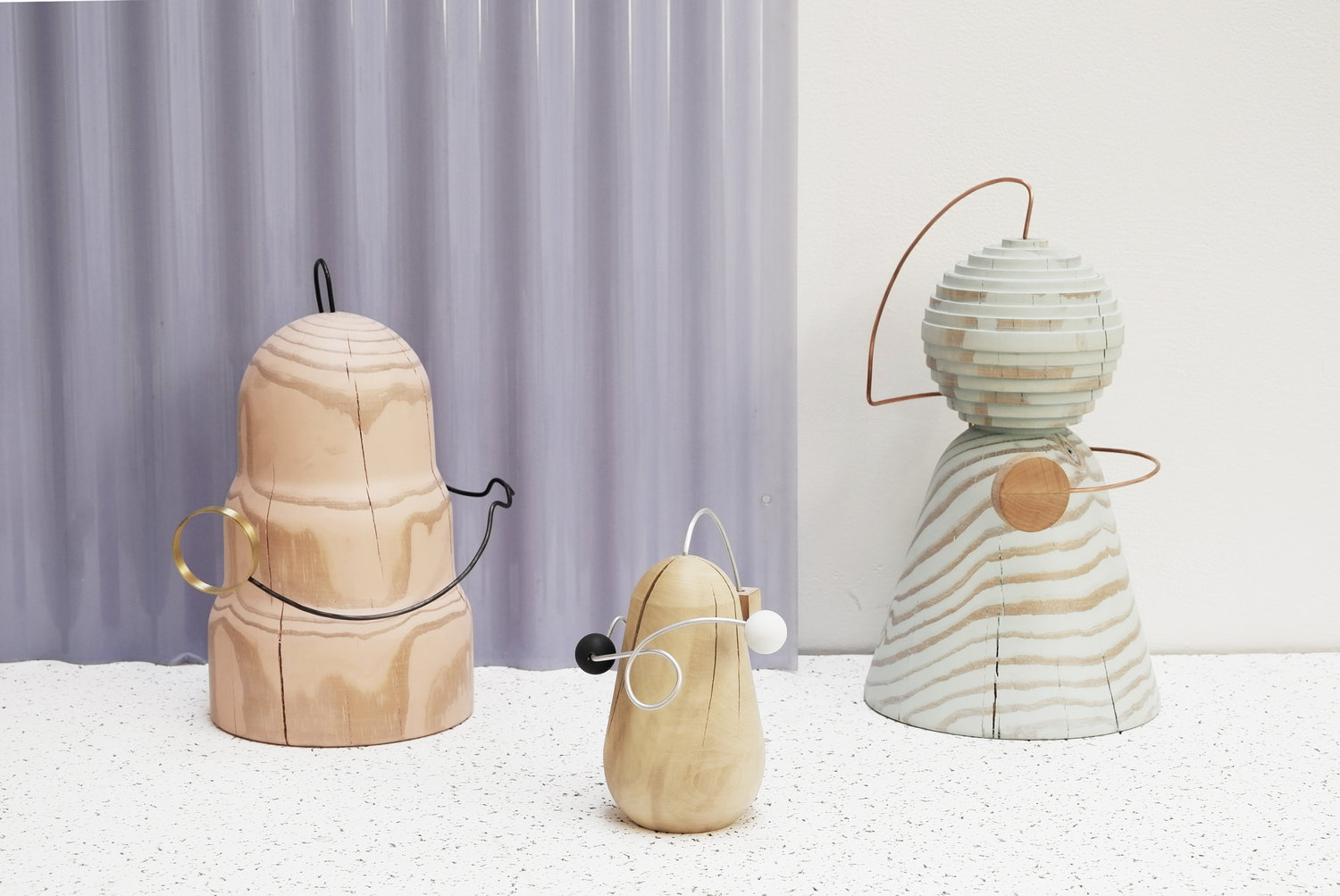 On the Smaller Side
If you're excited about incorporating a sculpture into your space and you're looking for a smaller statement, the ferm LIVING selections in this section of the post just might be the answer. Even a petite piece resting on a bookshelf has the power to captivate. This Sculptural Object by jewelry designer Helena Rohner is available in brass or stainless steel: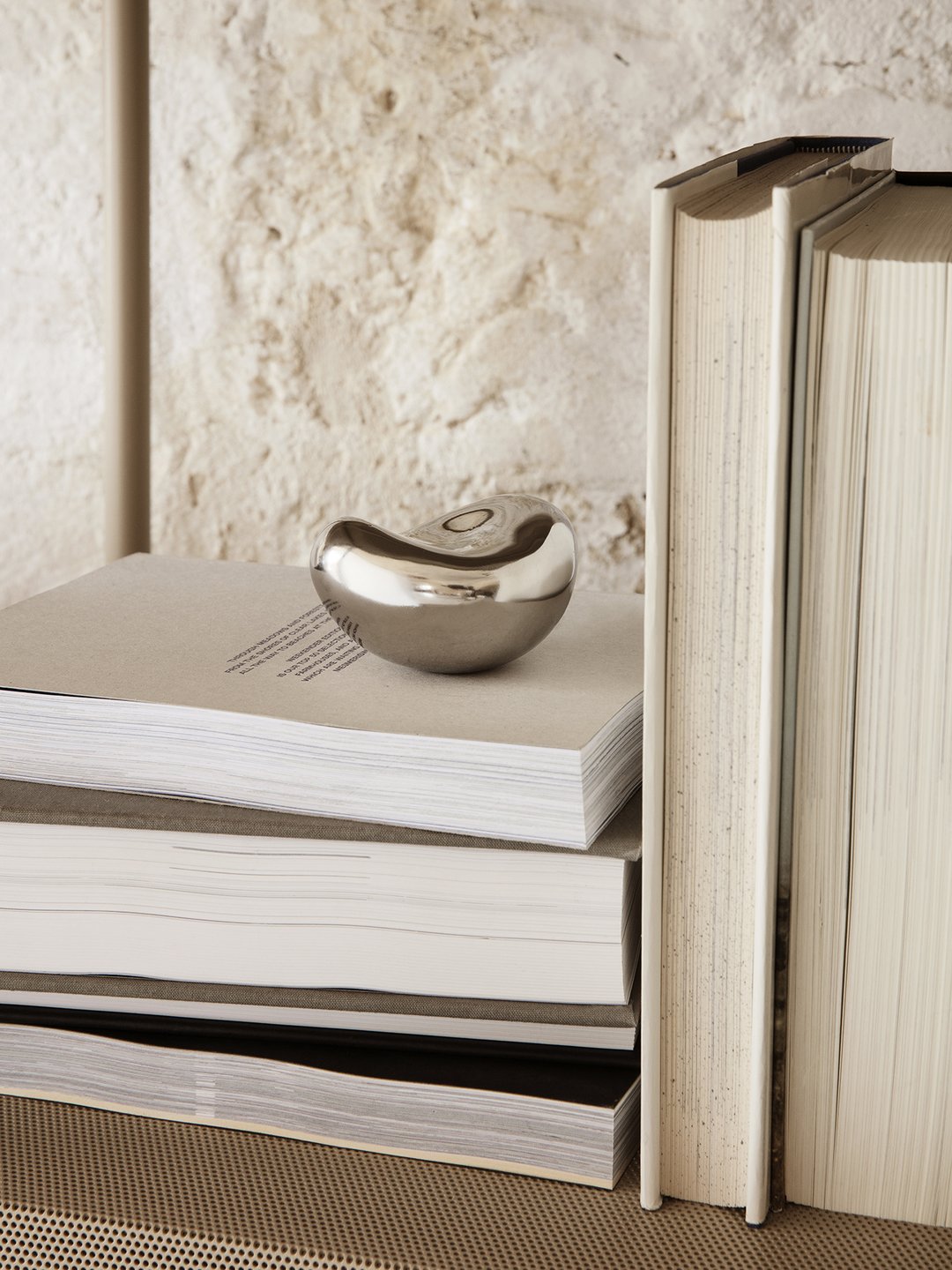 ferm LIVING's Berg Ceramic Sculpture can be purchased in Low or High. Inspired by lava, these creations are perfect for tabletop displays. The smaller version can even be used as a paperweight, proving that sculptures can serve a practical purposes. Glazed earthenware is the material of choice: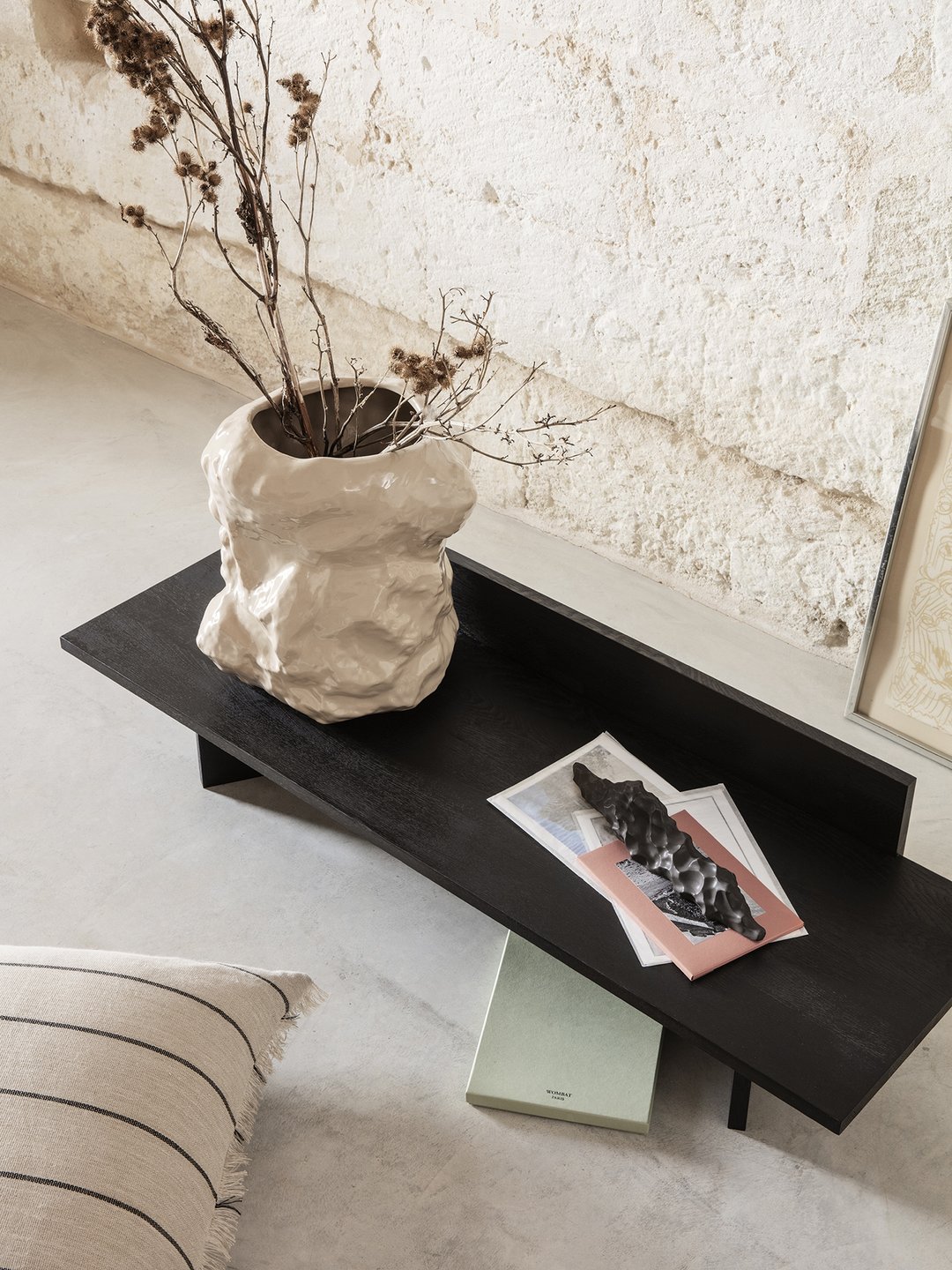 Below we see the High version of the sculpture, which measures in at 17.5 inches tall and creates a truly artistic statement. Each indentation on the surface of the sculpture evokes a sense of movement, and an overflow quality is achieved by the shape of the mound: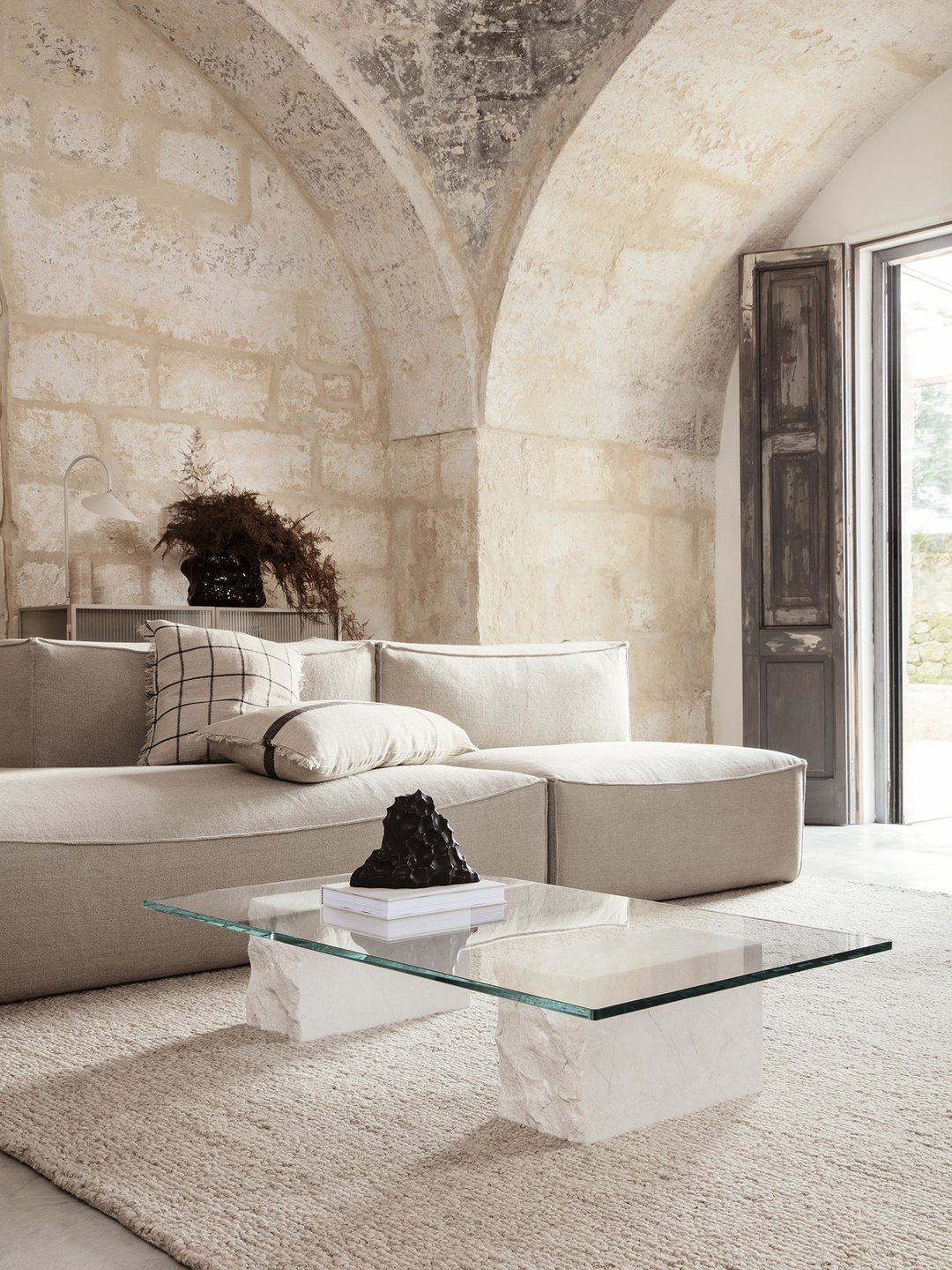 Thinking Outside of the Box
We end today's post with a different take on sculptural style. From stackable blocks to interesting vases, it's possible to get the look without purchasing an actual sculpture. For example, you can take the DIY approach with Fort Standard's Balancing Blocks, which are sold in a set of 10 pieces that can be crafted in the configuration of your choice: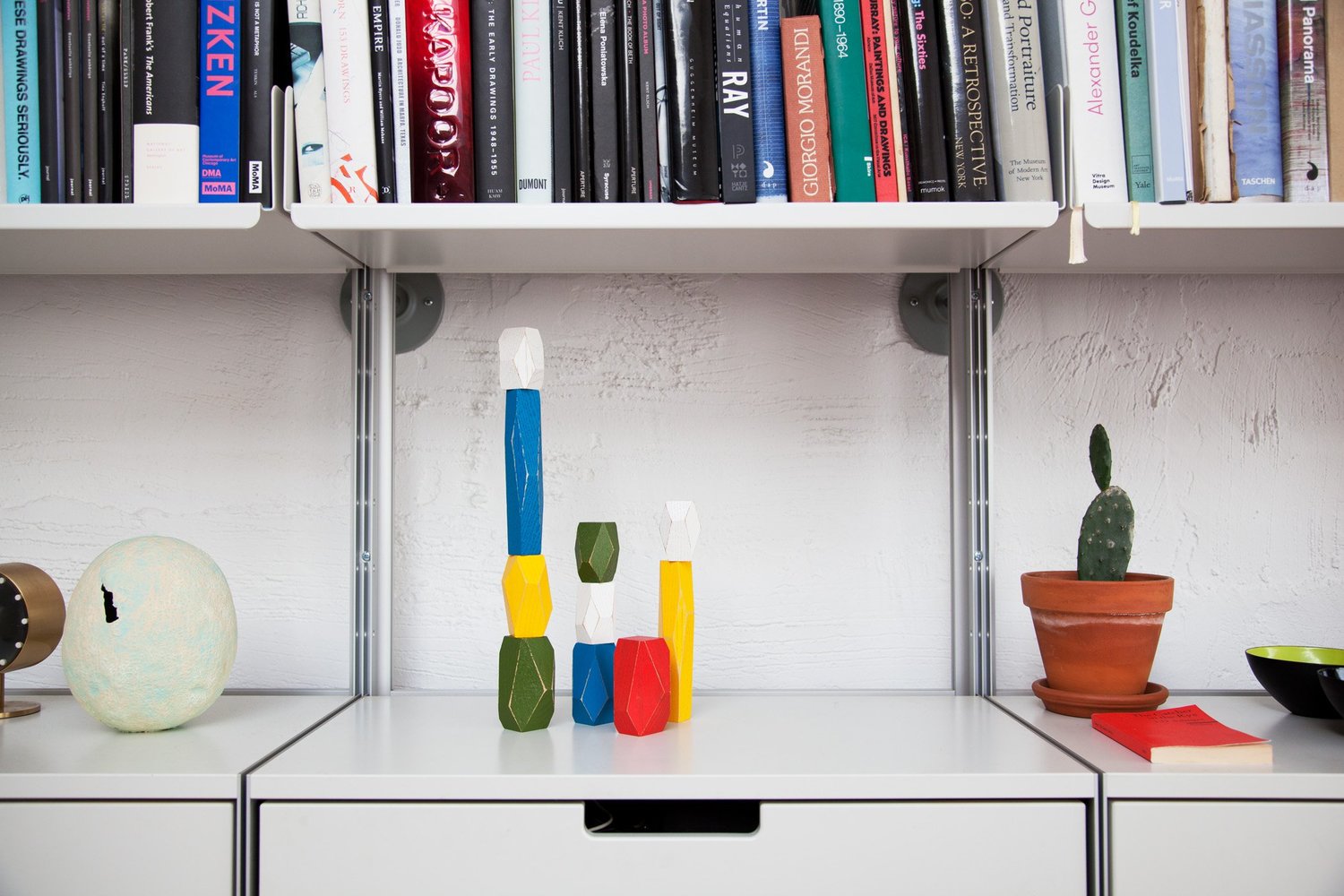 It doesn't get better than dual-purpose decor, so when your sculpture can double as a vase, all the better! Sculptural vases are a growing trend, and they're perfect for those who want to test the waters without committing to a true sculpture. Below we see CB2's Stick It Anywhere Marble Vase, designed by Jennifer Fisher. This spherical form can be displayed alone or filled with flowers. Faux or dried foliage is recommended.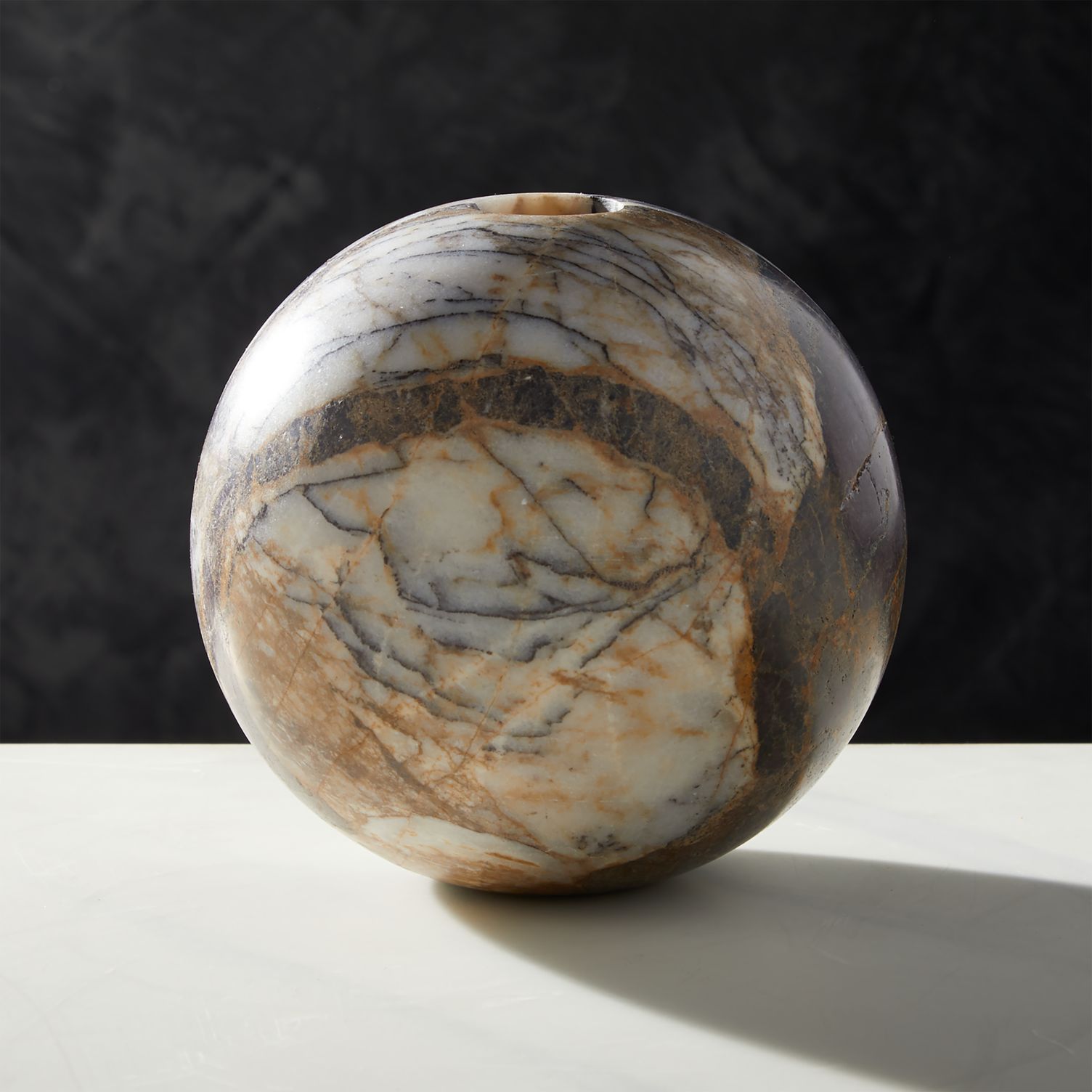 KOOKU's Bandura Vase is featured in the master bathroom of Athena Calderone, and below we see both versions in Natural. Clay/ceramic composition adds to the charm of these pieces, which are striking when filled with branches.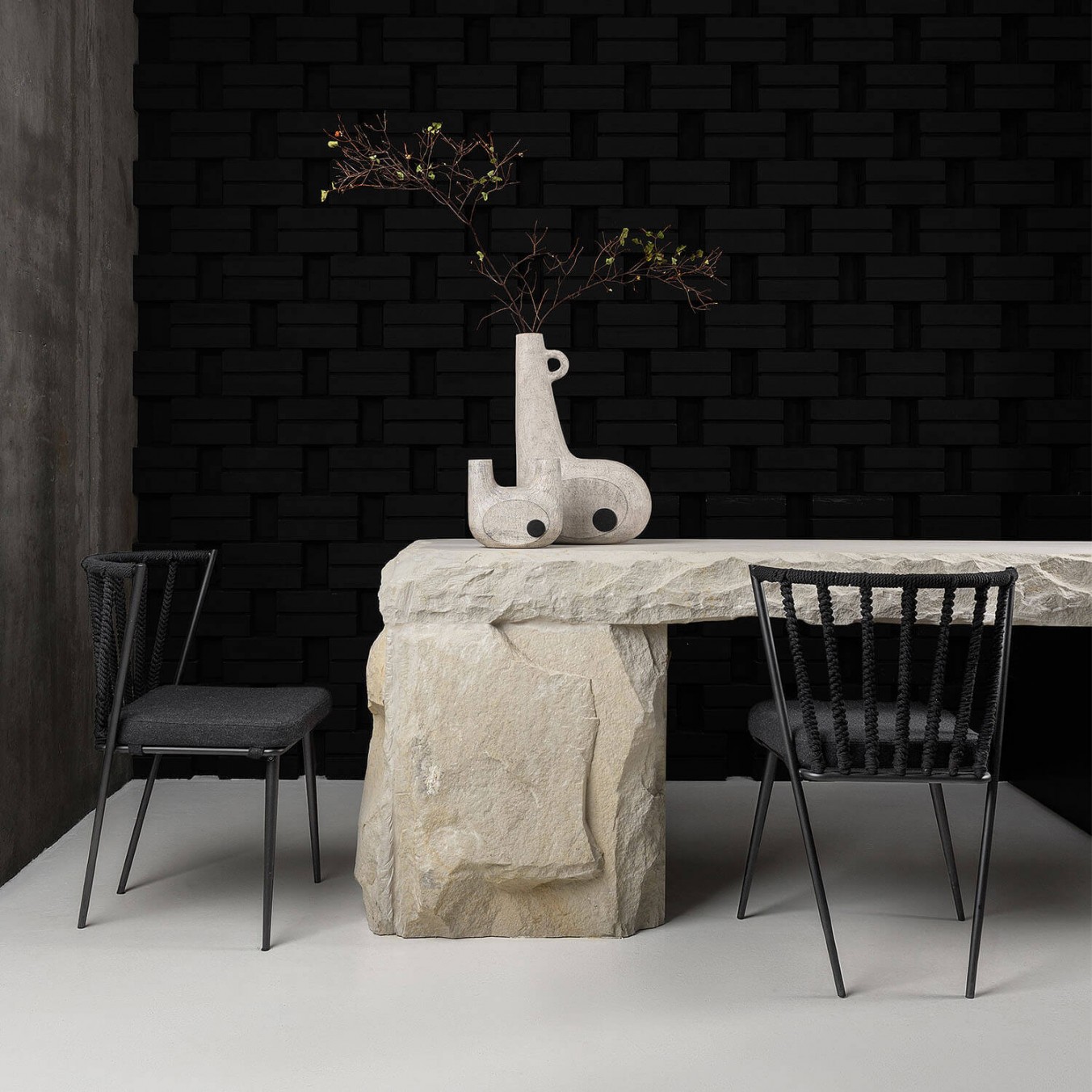 The vases are also available in black, and there's something unforgettable about the contrast created when dark decor is placed in a room with light walls. Especially when the decor boasts such striking forms and interesting details.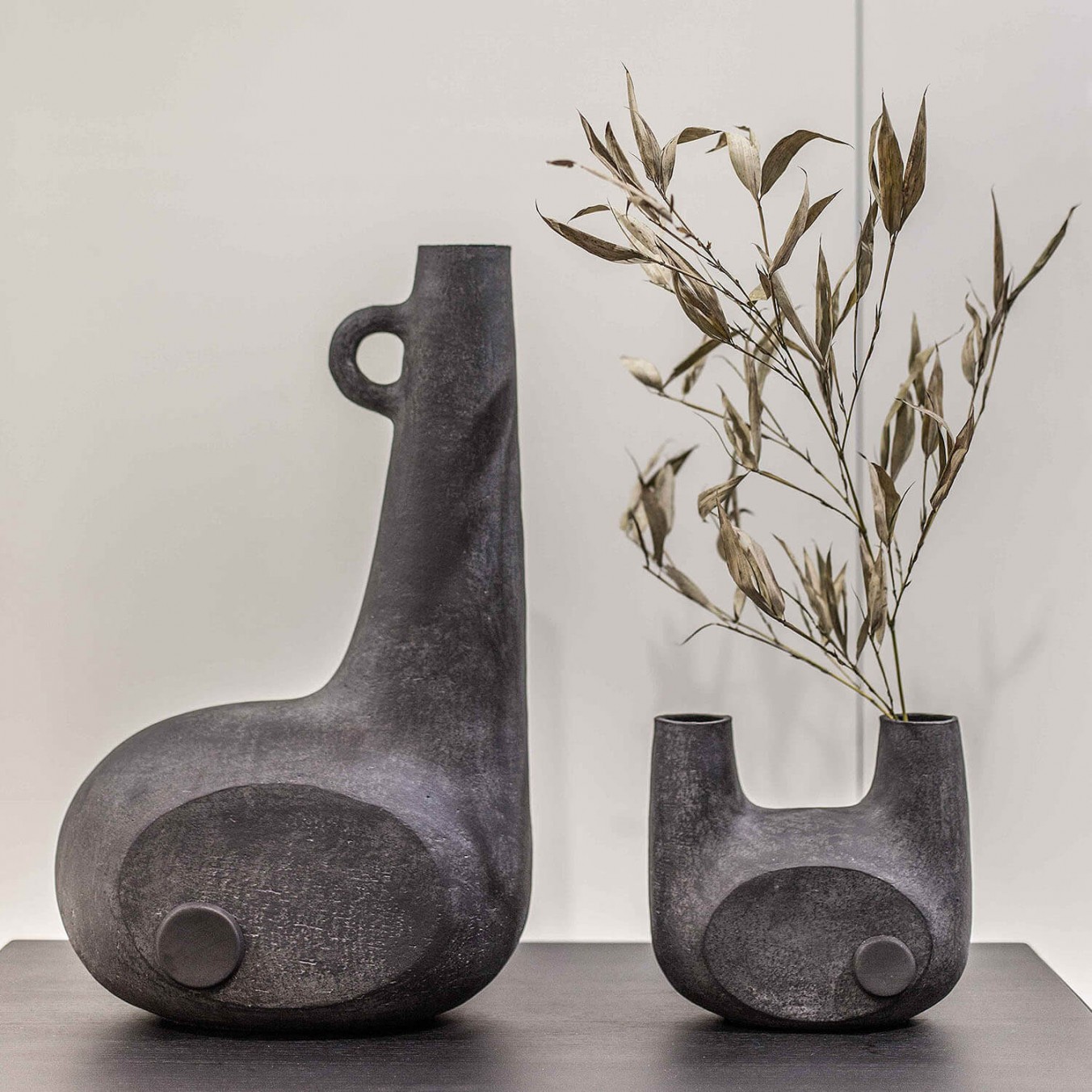 A hanging mobile takes on the look of pendant lighting crossed with a modern sculpture in the image below. Ladies & Gentlemen Studio's Moire Mobile is crafted from bent, perforated sheet metal. Overlapping forms create a dreamy interplay of gauzy shapes, like a sculpture suspended from the sky: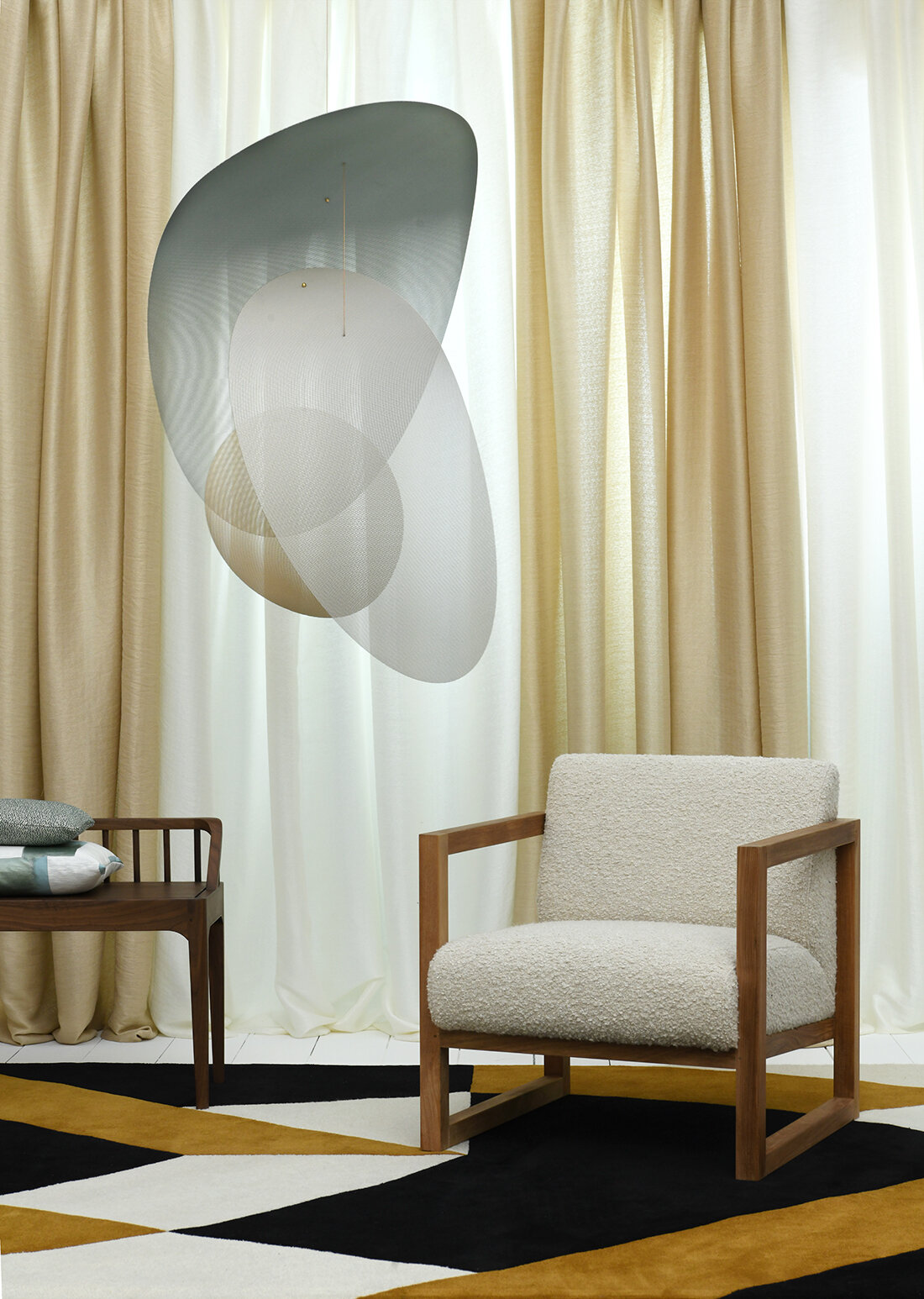 Also from Ladies & Gentlemen Studio, the Point/Counterpoint Mobile B proves that mobiles can double as hanging sculptures, drawing the eye upward. Once again, balance, movement and form take center stage: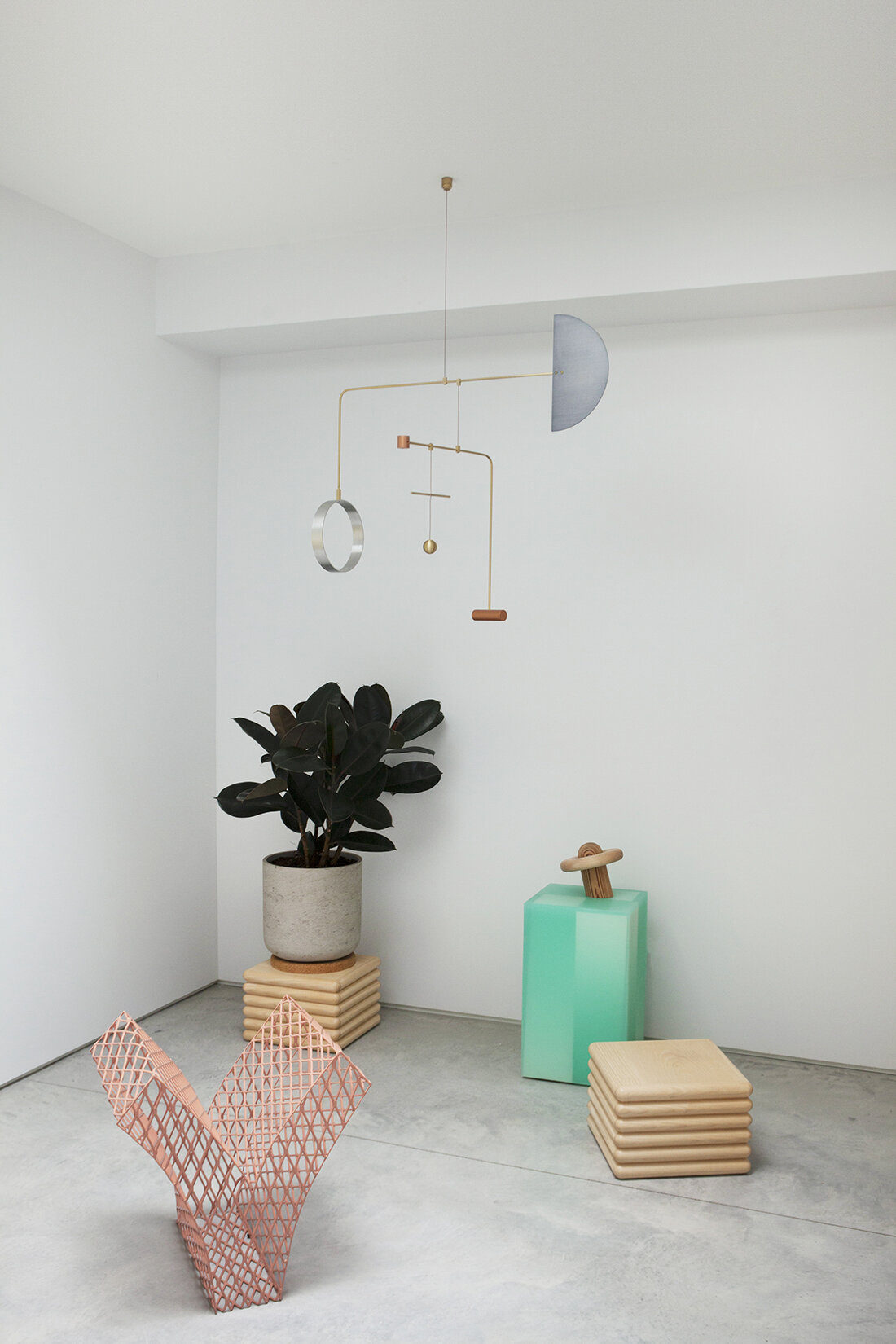 We hope today's post has proven that there's a modern sculpture for every sensibility. The increasing popularity and accessibility of sculptural pieces makes them ideal for design lovers who are looking for ways to celebrate art and creativity with each decorative purchase. An alternative to conventional decor, sculptures can be small like a paperweight or large enough to stand on the floor.
Whether you're searching for a big statement piece or something more compact, revel in the process of selecting a focal point for your interior. Gravitate toward objects that speak to you and inspire you, and enjoy displaying them in your home. Happy shopping, and happy decorating! Thanks for reading.
You're reading Create a Focal Point with Modern Sculpture, originally posted on Decoist. If you enjoyed this post, be sure to follow Decoist on Twitter, Facebook and Pinterest.