06 Jul

Covid-19 blamed as losses pile up at Royal Bam | News




Bam's Dutch parent has warned the covid-19 crisis and a problem job in Germany will send it nosediving further into the red when it releases its half year results next month.

In an update last week, Royal Bam said it was shutting its 600-strong Bam International business which carries out jobs outside its core European markets including Africa, Asia Pacific and North America.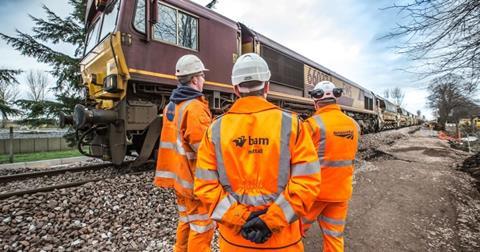 Last year, Royal Bam, whose UK businesses include Bam Construction and Bam Nuttall, posted a pre-tax loss for the six months to the end of June 2019 of €27.2m (£25m) on turnover of €3.5bn (£3.2bn), up 7%.
But in a trading update, the firm said its loss for the first six months of this year had widened to between €130m (£115m) and €150m (£133m).
The firm's interim chief executive Frans den Houter said: "It is clear that covid-19 is causing unprecedented challenges for society and our industry. Our various markets have been impacted very differently by covid-19. Some were shut down completely, while others remained open. We lost approximately 35% operational efficiency through the first two months of the crisis and are now getting back to 80%."
He added the firm would not be out of the woods in the second half of the year but said the firm had increased its cash position to €1.2bn (£1.1bn) from €944m (£840m) in the first quarter.
The firm promised that it will be looking at "cost reductions and initiatives to improve the risk profile, with a strong focus on cash. The results for the full year, compared to the first half of 2020, are expected to improve."
Den Houter said the firm was pulling the plug on Bam International because of "ongoing underperformance" and added: "We will immediately start the process of winding down Bam International, which was already under strategic review. This is harsh for the employees involved, however it is necessary and cannot be delayed."
The division, which is working on a dozen jobs around the world, is expected to make a €60m (£53m) loss for the first half.
The firm also said poor performances from its German construction and Dutch civils businesses had helped it sink further into the red in the first half. The firm has also been told to fork out €40m (£36m) following a fatal accident on the Cologne metro its German Wayss & Freytag tunnelling arm helped build 11 years ago.
The firm is due to unveil its half year results on 20 August.